News
30/04/2023 07:21
Dear YieldNodes Community Members,
We trust this message reaches you in good health and high spirits. We are pleased to provide you with a comprehensive update on the advancements in our restructuring process.
DECENOMY
In alignment with our roadmap, we are excited to announce the launch of new DECENOMY Coin websites, with Sapphire leading the way:
Subsequent websites will be launched shortly, boasting enhanced design and improved ergonomics.
Our streamlining efforts also encompass bolstered marketability through the utilization of linktr.ee for social media presence. This strategy enables us to promote the DECENOMY economic space across more than 60 social media channels, laying the groundwork for robust growth. Explore our various channels here:
https://linktr.ee/cryptoflow_coin
https://linktr.ee/cryptosaga_coin
https://linktr.ee/dashdiamond_coin
https://linktr.ee/jackpot_coin
https://linktr.ee/kyanite_coin
https://linktr.ee/mobility_coin
https://linktr.ee/oneworld_coin
https://linktr.ee/sapphire_core
https://linktr.ee/suvereno_coin
https://linktr.ee/ultraclear_coin
Introducing Streamlined Masternoding
We are thrilled to unveil our state-of-the-art MULTINODE System. The DECENOMY (DMY) Multinode Script provides a comprehensive solution for seamless management of your DMY masternodes. With this centralized platform, you can efficiently install, update, maintain, and monitor your masternodes.
DECENOMY Asset Collection Growth
The DECENOMY Asset page now proudly displays over 230 partners pledging a potential annual transactional volume of 400 million. This significant backing will contribute to the appreciation of our coins within the network. We invite you to join this burgeoning economy by signing up at https://decenomy.net
DECENOMY NFT Launch Update
While we have concluded the technical preparations for our NFT launch, recent legal developments have prompted ongoing consultations with our legal team to devise a compliant strategy. This approach will ensure you receive a legally secure NFT share of the entire DECENOMY Business.
As our NFTs currently fall within the securities domain, determining a secure method for offering them necessitates additional time. Consequently, our launch schedule has been delayed. We will promptly provide updates as they become available.
YieldNodes Commitment
We want to reassure you that our masternoding and staking efforts on your behalf remain steadfast, and we are diligently working overtime to fulfil our roadmap objectives, aiming for a relaunch by the end of 2023 or the first quarter of 2024. Our determination to overcome challenges and achieve our goals is unwavering. For more information, please visit https://yieldnodes.com/
We sincerely appreciate your ongoing support.
Best regards,
The YieldNodes Team
Many questions are now covered at:
https://yieldnodes.com/faq
Join the private YieldNodes Facebook Community Group at https://www.facebook.com/groups/1119167355184876
Join our official YieldNodes Discord server to discuss with other investors, and get answers to your questions at https://discord.gg/uNc2VpCwA9
19/01/2023 12:00
Dear YieldNoders,
As a community of more than 50,000 individuals, it is time for us to come together and harness the power of DECENOMY and Yieldnodes. Each and every one of us has the ability to contribute to our vision of a decentralized economic space.
We invite you to sign up at:
https://assetprovider.decenomy.net/
and list the businesses that you would like to run under the umbrella of DECENOMY. It is important to note that by participating in DECENOMY, you will not lose control of your business. Instead, you will likely receive many perks such as lower transaction fees, appreciation of coins surpassing any bank rate, straight-through fiat processing, potential interest payments, collaborative efforts, low to zero inflation, and more.
It does not matter if your business is online or offline, a rental, goods production, or service, as long as it generates transactional volume and can benefit from cheaper fees, it qualifies to be part of DECENOMY. Please ensure that your application for a business listing is accurate, includes the net value and yearly turnover, and provides a detailed description.
As an added bonus, the most interesting, outlandish, big, or eye-catching businesses will be listed on the assets page (main site) with links, which will drive additional traffic to your business.
Support our vision and engage in this effort! It is time to rebuild and spread the word. The more we are, the stronger our decentralized economy will be.
Kindest,
The YieldNodes-Team
30/11/2022 11:23
Dear YieldNodes friends and critics,
After our current and intensive planning phase, many meetings, and detailed workshops, we are pleased to present the road map and the next basic milestones to the public.
Please find all the details below:
DECENOMY-YNP_basic_milestones_2023_1.1

Yours
Steve & Urs
Stefan Hörmann
CEO Exceptional Media Limited, Hong Kong
Urs Schwinger
COO and CIO Exceptional Media Limited, Hong Kong
19/11/2022 17:48
Dear YieldNodes friends and critics,
Since the topic of how YieldNodes masternode rental services really work in detail comes up repeatedly; especially in comparism to a ponzi scheme, I would like to describe things on a factual and economic basis.
Find below the background why YieldNodes always was and of course still is legit and must be considered separately from non-legit schemes.
1. Absolute Transparency
A recurring argument is, that parts of the deposits of investors were used directly for the reward payouts.
We communicated this procedure from the very beginning, means it is not related to any scheme. It was always very clear to us that such transaction histories could be seen on the blockchain. We therefore deliberately – as part of our "open door policy" – did not conceal it. As well as we publish pictures of us, real names and do official company registrations.
2. Professional YieldNodes Masternode Pool
Basically, all of our partners' money were invested in choosen masternodes. Small parts were used for server setup, rent (mostly VPS), running costs and partly for the associated collaterals.
Once the masternodes were active and enabled (after 24-72 hours), they generated rewards. These ROIs were from 60% to over 200%. To be clear: all masternodes are still running and will do in the future.
That ROI is calculated based on the coin value depending on the actual exchange rates coin/BTC and USD/EUR. We offered these masternodes as a pool in which investors could participate by renting proportionally to the generated rewards.
3. Visible BTC Liquidity Pool
Professionally created with a BTC Liquidity Pool, to handle economically meaningful investors depositings, cashing out and exchanging the masternode and staking rewards as well as the BTC reserves.
We thus had a relatively stable and calculable system for paying out the rewards of our pool to our partners in BTC and other cryptocurrencies. The BTC Liquidity Pool is certainly composed of various wallets!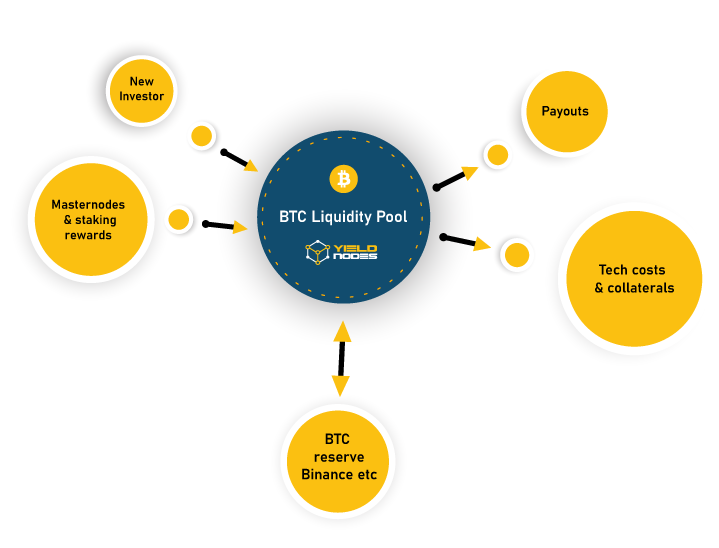 4. Backed BTC Reserves
Reserves of 3-5% of the total value are needed to have the necessary liquidity for the payout flows and the protection of prices against dumping campaigns. E.g. if the market was under a lot of selling pressure, we used the reserves to be able to make timely payouts, then cash out the masternode coins at a later date, when the market was rising again.
5. Important role of Binance
Professionally managing our BTC reserves and hedging risks, we deposited a large part of the BTC reserves to Binance., They have the necessary volume and the technical possibilities to hedge our BTC reserve with USDT against strong price drops.
6. Constant optimazation of the YieldNodes working principles
From the beginning we noticed to lose a relatively large amount of revenue if we would mak separate deposits and withdrawals.
I will illustrate this by a simplified example. If a withdrawal request of a YN partner corresponds to the deposit of another partner, we had 2 possibilities to basically do that trade:
1st course of action by dissolving
We dissolve the corresponding masternodes for the payout request, whereby they no longer generate rewards. Then we exchange the corresponding coins on the exchanges into BTC and provide the BTC (or other cryptocurrency) to the payout partner.
On the other hand, the side that makes a deposit, we exchange the depositor's BTC into coins for masternoding, set up a new masternode, start it and it generates the first rewards after 24-72 hours, depending on the coin.
This solution leads to the fact, that although the capital is available, the masternodes do not generate 100% returns and in the event that there are more withdrawals than deposits, there is a price pressure on the coins due to the withdrawal.
2nd course of action by transferring
We transfer internal the existing masternode (or share) to the new investor. This generates immediately income for the investor – he gets the best out of it! After that we transferred the deposit from the depositors account to the payers one.
This simplified illustration shows why this obviously made sense and was the financial best for our partners to redirect deposits directly as payouts. Since this was all handled by our BTC Liquidity Pool, it happened automatically and was finally our working solution.
7. September 2022 with strong selling pressure
Until August 2022, our system was running very well. At the beginning of September 2022 our coins were exposed to a very strong selling pressure. This made it hard and harder to cash out the masternode earnings. Therefore, the main inflow to our BTC Liquity Pool disappeared gradually. Expecting this as an only temporary issue, we decided to compensate that with our BTC reserves.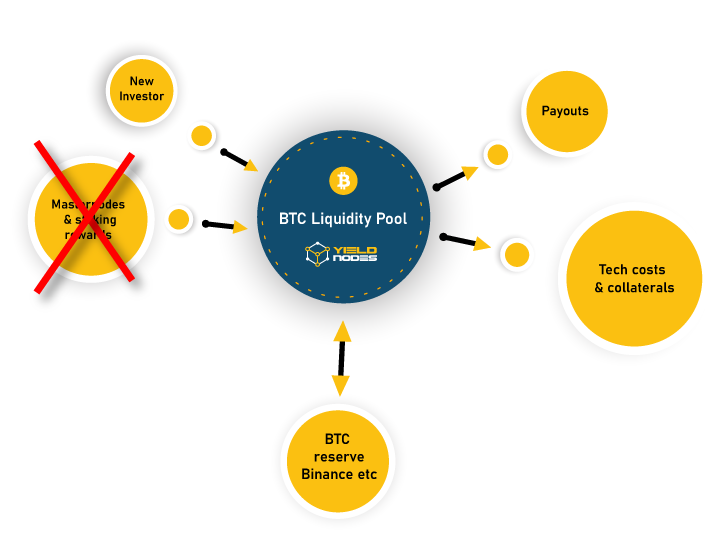 8. The great vision of a decentralized economy – DECENOMY
Due to the mentioned facts, we decided to push the long planned DECENOMY concept, where all coins are backed by real economic assets. We had already made some arrangements way before and started to speed up the planned process. Many partners were and are interested in contributing their own assets. One huge strategic partner who had been supporting DECENOMY for a long time was the IPI Group with its chairman Uwe Kuhnle. At no time any of the YieldNodes partners' funds were invested in any of these assets. These assets were and are always financed by third parties or private money from Steve and me.
9. Oktober 2022 with Binance freeze and paused withdrawals
During the September withdrawal process, Binance freeze our account. As an important result, we now only had inflows from new investors. As this would have turned us into a ponzi scheme, we immediately decided to suspend deposits and withdrawals to avoid a bank run. Means: We decided directly to solve the whole problem fundamentally by giving our coins real value through real economic assets.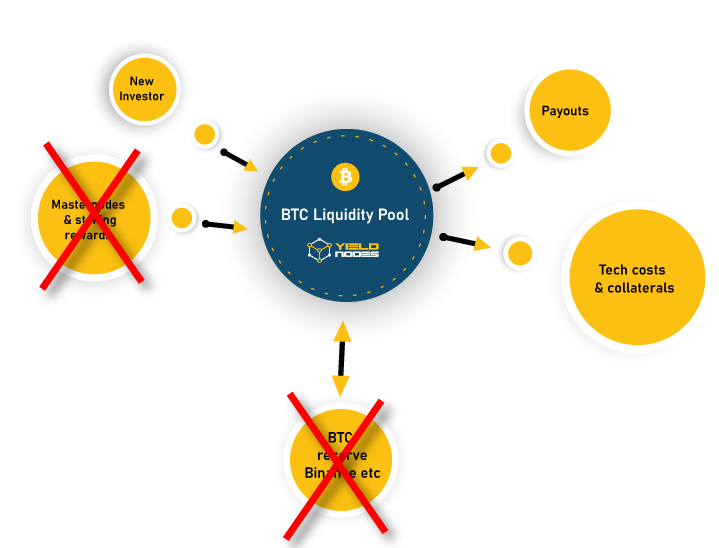 10. Current Situation
As described above this is the current situation we are in. Now we are in the planned restructuring phase, where we should finish the fundamentals within a year. We are firmly convinced, that together with our appreciated community and our strong partners, we are able to build a new & fair economy, the so called DECENOMY.
Yours
Urs
Urs Schwinger
COO and CIO Exceptional Media Limited, Hong Kong
05/11/2022 10:02
Dear YieldNodes friends and critics,
as promised we will hereby publish the first addresses of our law firms, representing our interests. Further lawyers for other jurisdictions will follow.
Brandt Partnership
Eschersheimer Landstr. 19-21
60322 Frankfurt am Main
Germany
PROLEGAL Advocates
Dr. Alfred Abela
Vjal ir-Rihan
Triq tal-Balal
San Gwann SGN 9016
Malta
https://www.prolegal.mt/
All submissions will be needed in written form. Spam mails and aggressive mail inquiries will not be answered.
To avoid any misunderstanding, we are not interested in any legal dispute. Instead we would like to reach a reasonable and profitable solution based on DECENOMY. We also see a large majority stands with and behind us.
Therefore, we would like to refer the people who want to intervene in the legal way to our professional partners in order not to lose time in the next steps for successful DECENOMY.
29/10/2022 08:49
Dear DECENOMY friends,
enclosed is the first beta version of the Lite Paper. I apologize for being late again, but I have had a death in the family.
The Lite Paper is really just a beta version. It is still missing the part where we talk about our coins and explain why it is necessary to have different coins.
Furthermore, it has not been proofread by a native English speaker.
There will be new versions of the Lite Paper in the next few days.
Lite Paper Version 0.9 x

Open letter from Uwe Kuhnle and official Creditreform assessment of one of his companies, Mewako GmbH, which was falsely disparaged.
25/10/2022 02:18
Dear DECONOMY friends,
Enclosed we publish the Open Letter of our partner Uwe Kuhnle.
I have spoken with him a lot during the last days. He still stands behind us despite all unfair attacks on his person and his companies and will bring DECENOMY to a new level with his assets. We have been working together for several years and have been preparing the IPI Group for DECENOMY for more than a year.
Although Uwe Kuhnle would not have to, he also publishes the balance sheet analysis and the related economic evaluation of Mewako GmbH by Creditreform.
The listing of the individual assets will take a few more weeks. Since it was planned to integrate the first assets into DECENOMY only in 2023, the auditor of the IPI group of companies needs a few more weeks to prepare the list of assets to be integrated into DECENOMY in the first step. There are other business partners who want to bring in their assets.
Details about the IPI group can be found here: https://www.ipi.ag.
The page is not up to date, but you can already find a lot of information about IPI Group and its developments. However, the IPI web page is being revised just like all DECENOMY related web pages. Since this concerns more than 30 websites with a lot of content, it will surely take a few weeks until all websites are up to date.
We will in the next days provide a link list of the posts about IPI projects from other sites.
As Uwe Kuhnle writes in his letter, our lives take place in the real world and only to a limited extent in the virtual world. Therefore, the focus so far has been on business in the real world.
However, we will now also provide the relevant information online. In this way, we are showing how virtual tools can improve and manage the real economy. However, this will not create virtual assets that are only used for gambling.
Our NFTs act as value certificates for real assets and thus enable to manage the real values in DECENOMY and to build up a value register. Only in this way is it possible to build a sustainable economic system with valuable coins as sector currencies.
Urs Schwinger
COO and CIO Exceptional Media Limited, Hong Kong
20221024 IPI AG - Urs - DECENOMY

2022-10-24 Crefo Mewako Englisch wo accounts

Statement on yesterday's video and on further cooperation with the group, which gives itself the name "yieldnodes.legal"
24/10/2022 00:54
The video was announced with a very defamatory image of our partner Uwe Kuhnle, which was later at least changed to an image that was no longer manipulated.
Nevertheless, we wanted to be fair, to wait for this video before making any further decisions regarding further cooperation with this group.
But what came next was unsurpassable in terms of unprofessionalism and incompetence. We thought that was a shame, because we thought we were dealing with smart people.
I have written almost 12 pages, but I will only point out a few essential points, which were simply sloppily researched and facts were misrepresented. Whether this happened intentionally or out of stupidity will have to be determined in later legal disputes. Calling oneself Jesus and hiding in anonymity will delay but certainly not prevent this.
Even the initial comment that this is only his interpretation is only covered by freedom of opinion as long as there is no intentional misrepresentation here that gives the appearance of an objective assessment.
Now to my statement, I begin as the first with the last "large uncovered insight":
ADDRESS ON THE BALTIC SEA:
————————–
It was indoctrinated that all companies of Mr. Kuhnle are registered at only one address (which is not true at all) and that it would be therefore quite obviously a letter box company. One could have cleared up the mistake oneself by a very simple Internet search, feed Google Maps with the address and then set the satellite view:
https://goo.gl/maps/JCUGweqtwnTVnJwQ7
The "small" white building on the top left is the administration building where all the companies are located. It has 3 floors and an area of 2400 m². The whole area has a surface of more than 1.000.000 m² (you can measure it in Google Maps). In addition to extensive production and storage areas, to the right of the administration building you can see the HTC plant and a solar plant covering most of the area. The whole area belongs to the IPI Group and can be visited live. That there are a lot of companies from the IPI group registered, seemt therefore to be very logical and also serious.
NORTH DATA ANALYSIS:
——————–
Then we come to the next very obvious error in the allegedly professional research. It is claimed that North Data is a research tool that would be suitable to illuminate companies and structures. North Data is perhaps okay for a simple basic search, similar to a Google. But North Data, unlike e.g. Creditreform, only uses the published totals and balance lists and does not do a real balance sheet analysis. I have therefore asked Uwe Kuhnle to send us the relevant current Creforeform information for publication. Then you will quickly see the differences of a professional balance sheet analysis.
But it should have already been noticed during the analysis that e.g. the discussed IPI AG in Switzerland, as well as DECENOMY PLC in Malta, which is also known, is missing. Afterwards also further German companies and naturally the companies are missing, which own the solar plants in Italy and in Iran.
Also here a link:
https://www.euronews.com/2017/07/31/largest-solar-power-plant-in-iran-opens
Right, also 5 years old, but still generates electricity. Further planned investments have been put on hold because of the new situation created by President Trump.
Let's move on to the statements about IPI AG in Switzerland. As described on the website, IPI is a holding company and therefore not operationally active. Therefore there are naturally no large activity reports.
Furthermore, the form of a stock corporation has been ridiculed. Those who are familiar with Switzerland know that the form of the "Aktiengesellschaft" (PLC) is normal in Switzerland. Even very small companies have the form of a "Aktiengesellschaft". This shows ignorance and therefore the ridicule is simply embarrassing.
BASICS BUSINESS ADMINISTRATION:
——————————-
While we are on the subject of ignorance, a short lesson in business studies:
Both a "GmbH", in English LTD (Limited), and a "Aktiengesellschaft" in English PLC (Public Limited Company) are corporations with limited liability (the "L" in both stands for "Limited"). And the "Umsatzsteuer ID" is simply the VAT ID.
Not knowing this, or translating it incorrectly, shows that there is too little knowledge in connection with business studies, especially international, to be able to make a reasonable analysis.
DEFICIENCIES IN IPI AND DECENOMY WEBSITES
—————————————–
Both the IPI Group and the DECENOMY team are aware that there are significant deficiencies in their own websites. This has something to do with the fact that we are still used to conducting "old school" audits, product presentations and company presentations face to face on site. That is why IPI and we are indeed, as also smilingly presented, the personal visits and international delegations are important. We know that life and therefore business with real assets takes place in real places. There are no real virtual assets, there are only virtual tools that manage real assets.
The IPI Group makes quite a lot of revenue, to show this it is planned to prepare a consolidated balance sheet in 2021.
However, we will remedy this lack of information on our websites now and by 2023 at the latest, all our websites will be "up to date".
CONCLUSION
———-
We will continue to expand communication with the community.
HOWEVER, WE WILL DISCONTINUE COMMUNICATION WITH YIELDNODES.LEGAL
The group has only self-interests and thus harms a solution for all and waste our time. If the members of this group are interested a this holistic solution, they are welcome to join our YieldNodes Discord server. Otherwise, as already from them announced, they will have to take the legal route.
Completion (24.10.22, 9:00am CEST).
The statement comes from Urs Schwinger. It is coordinated with Stefan Hörmann and Uwe Kuhnle.
An open letter from Uwe Kuhnle will also be published here today.
Response to the open letter of the current threatened class action.
This is also the general information for all other planned lawsuits and threats.
21/10/2022 18:13
After consultation with our lawyers from various jurisdictions, we declare the following:
1.) The provider of the YieldNodes platform is Exceptional Media Limited, Hong Kong, Flat A, 15/F, Hillier Commercial Bldg., 65-67 Bonham Strand East, Sheung Wan, Hong Kong. It is therefore the contractual and contact partner.
2) We will provide the contact details of our lawyers to be contacted for any legal claims by 4 Nov 22 here on the website. We are currently checking if we will name different contact addresses for different jurisdictions, or if there will be a collective address.
In principle, however, the place of jurisdiction is Hong Kong.
3) We have used the funds of our investors exclusively for the maximization of Masternode earnings and the associated staking. All the coins are still there, only their value has plummeted extremely. To avoid a bank run, we have paused all deposits and withdrawals.
4.) Investors were informed in detail and repeatedly about the possible loss of the invested capital. It was also pointed out in detail that any liability for this is excluded. Every investor has signed this.
5) As has been planned for some time, real assets are being brought into the Decenomy network in order to create actual application possibilities for the Masternode Coins and thereby sustainably increase their value again and maintain it in the long term. Although we would not have to, we are doing everything we can to restore the value of our investors' deposits.
6) The assets needed for this come from external partners as well as investors and from private investments of the operators of YieldNodes.
7) DECENOMY PLC Malta is not affiliated with YieldNodes. It has not been active so far and has been established to manage the real assets that will back the Masternode Coins. It has a different shareholder structure than Exceptional Media Limited, Hong Kong.
Stefan Hörmann
CEO Exceptional Media Limited, Hong Kong
Urs Schwinger
COO and CIO Exceptional Media Limited, Hong Kong
Anouncement
11/10/2022 18:32
Dear YieldNodes Partners,
Due to the important and explanatory occasion I, Urs, am writing to you today.
Due to the current "crypto winter" and the general problematic economic situation (war in Ukraine, high inflation, high energy prices, weakness of the Euro etc.) we are forced to hedge our virtual assets with real and sustainable assets and to provide and manage them in a decentralised way.
Therefore, with immediate effect, we will restructure YieldNodes into YieldNodes Pro to ensure hedging by real assets and to ensure that our shared values are preserved in the long term.
The repeated blocking of exchanges like Binance and Changelly (of which are both still blocked) and the difficulties in lending our assets show us that it is time to implement the DECNOMY strategy as soon as possible and tie the value of our coins to real assets.
The general selling pressure has a negative impact especially on the prices of assets that are only based on monetary values and we currently have hardly any chance to cash out our profits from the Master Nodes. In addition, there are constant attacks on our coins, combined with the insubstantial statement that we are a scam. All this leads to the fact that we must immediately realign our strategy in the direction of DECENOMY.
We have shown through transparency, openness and real audits that we do a decent and good job as a team. However, we see that this is repeatedly undermined by players on the market who only want to gamble. We can only counteract this with real assets and applications that give all our partners the necessary security that they can trust DECENOMY and thus YieldNodes even in times of crisis.
We will implement this strategy through YieldNodes Pro. As many know, this has always been our plan, we are only bringing it forward because of the current situation and are starting the immediate implementation.
We currently have enough reserves, which we are now using to activate YieldNodes Pro. In doing so, we will integrate the existing and still to be developed real assets into our DECENOMY network and make them available to our partners via YieldNodes Pro directly or pooled as an asset.
The assets to be made available are available to DECENOMY through contractual agreements with various partners who strongly believe in our strategy and fully support us in its implementation.
These are:
– 2 hubs in Germany and Malta
– A large photovoltaic power plant in Germany (11.5 MW)
– Several photovoltaic power plants in Italy and Germany (>2 MW)
– A large photovoltaic power plant in Iran (23 MW)
– An HTC plant in Germany connected to all patents (https://htcycle.ag/en/about-us_8)
– A music publisher and streaming provider in Germany
– The Mobolith project with which we can charge electric cars without a charging network and which also compensates for the disadvantages of the very volatile power supply from the sun and wind.
– Various residential, commercial and social properties, building plots and forests where we focus on sustainable construction and management.
The value of these real assets amounts to well over 300 million euros. The return on these assets is extremely high, but also sustainable. More detailed information with locations, economic and technical data will follow.
To be able to implement this, we will convert payments made and credit balances in YieldNodes into NFTs, which give a subscription right to shares in these assets.
Until these NFTs can be traded, the contractual minimum interest rate of 5% per quarter will be ensured. After that, in a first stage, we will create a possibility for these NFTs to be traded (Q2/2023). In a second stage, based on YieldNodes Pro (Q4/2023), we will provide a portal that will allow our partners to convert the NFTs into equity investments and receive the returns from the associated assets.
We have consulted with economists and lawyers. This is the best and probably only way for all our partners to continue to benefit from assets of value and it forms the basis for realising the DECENOMY strategy.
Some will be disappointed by us and may even hate us for it. But if you think it through, you will see that this is the best way for everyone to continue to get returns from YieldNodes and avoid losses. So this is only a pause of a few months, which is necessary for the restructuring.
We will follow up with more detailed information in the coming days.
Yours
Urs